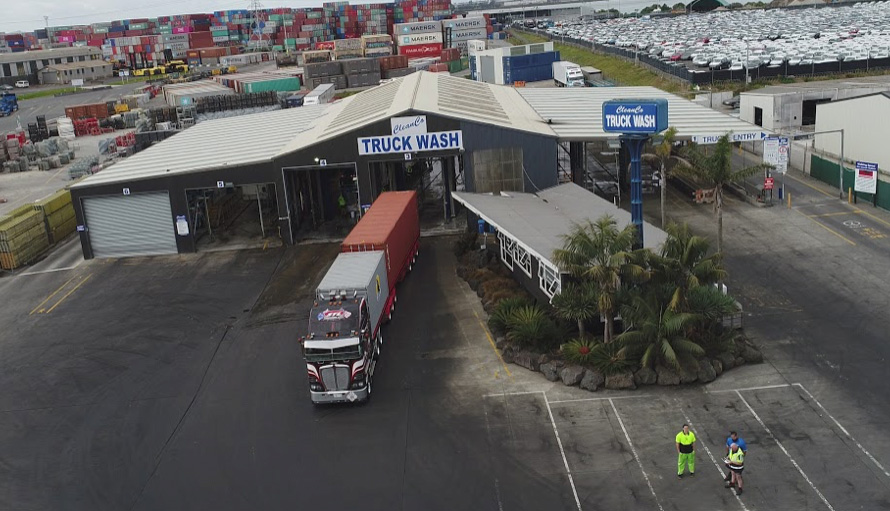 Hand and automated truck washing – count on us for a high-quality wash in the shortest of time.
All our washing is done under cover, using a mix of hand washing and water blasting (soap applied under pressure) to get rid of hard-to-remove dirt.
All cabs are hand washed in detail, along with the chassis, underbody, wheels and deck.  We then use our automated gantries, with rollers, to clean on top of the truck and its side body/curtains.
We rinse with clean filtered water. All waste water residual is managed carefully.
An optional tyre revival service is available.
An optional sanitiser product is available for food-related cleaning.
For excess dirt, road grime and bugs we use concentrated soap. Please talk to your site manager if your truck is especially dirty.
Our wheel polishing machine is stationed in a covered designated grooming and detailing lane with specific products and tools to have your wheels looking the best. Bookings are required.
Relax in our waiting area, enjoy SKY TV, free coffee and WiFi. Showers are available, along with kitchen facilities and cold drinks.
We bottle and sell the same truck cleaning products we use – so you can use them between washes.
Washing a lightly soiled truck is easier and faster than washing a dirty or grimy truck.  Ask about our volume discount plans or fleet wash plans.
Fleet pricing is available. Please call: