We do a great job, we do it to a high standard, we do it fast and we do it consistently at all our locations.
A clean truck is clear evidence that your business and its drivers take pride in your vehicles. It also enhances your brand image perception. Your vehicles are your company's billboards!
Drivers and owners spend a lot of time in these expensive vehicles. Who wants to be remembered for driving dirty?
Food, agricultural and health sector customers need to be confident that their goods are being transported in the cleanest and most hygienic conditions. Not only does CleanCo wash your truck but we offer industry-standard interior sanitisation services.
Regular cleaning helps maintain and prolong the life of curtains, bodywork of your trucks. Keeping on top of the road grime and dirt reduces the time taken on servicing, COF's and repairs.
As New Zealand's largest truck washing business we are very efficient at what we do. Due to the scale of our business we are also able to negotiate the best deals on the products we use. We are continually assessing these to give you the best quality wash in the shortest time possible. We are environmentally compliant and strive to make our business as green as possible.
Local Touch & National Reach
We are located throughout NZ and now in specific areas have mobile wash units for larger fleets where we can come to your site at a time that suits you.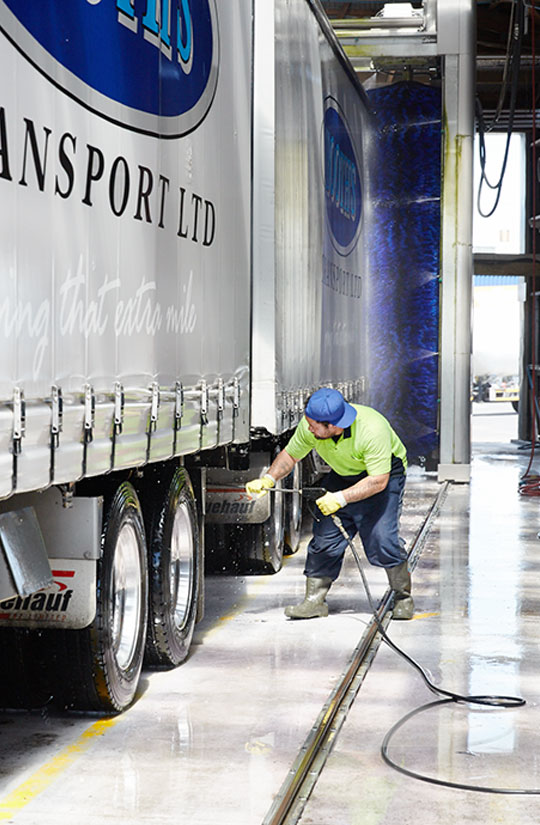 We aim to make stopping for a clean as straightforward as possible for you.
Our friendly office team are on-hand to answer phone calls and update you on how busy we are. Sometimes we offer free pies to the drivers as well!
We support industry events and we are always on the lookout for useful products and services for our customers.
If you can think of a way we can serve you better – tell us!