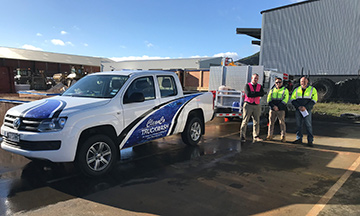 Hand and automated truck washing – count on us for a high-quality wash in the shortest of time.
All our washing is done by Hand Washing and Water Blasting (soap applied under pressure) to remove the hard dirt.
All Cabs are hand washed in detail with the chassis, underbody, wheels, curtains and deck, with a mixture of Water Blasting and hand rolling to secure the best finish and care of your truck.
An optional tyre revival service is available.
An optional sanitiser product is available for food-related cleaning.
For excess dirt, road grime and bugs we use concentrated soap. Please talk to your site manager if your truck is especially dirty.
Relax in our waiting area, with free coffee, cold drinks and kitchen facilities.